Reducing plastic use has become a key priority for businesses across virtually every sector in recent years, both in cost-saving drives and, in the case of retailers and manufacturers, in initiatives to reduce plastic consumption across the supply chain. And with the cost of raw materials such as LDPE as a record high and increasing on a week-by-week basis, now is the time to assess your plastic consumption and consider sustainable alternatives.
So, to help your business boost its green credentials and prepare for the UK's plastic packaging tax and the potential cost of EU imports, here are five high-impact, ultra-effective solutions:
Sustainable void fill and paper dispensers
Switching to paper and bio void fill is a quick and easy way of cutting your plastic use without sacrificing on product safety and packing speeds.
biofil™ is the ideal alternative to regular polystyrene fill, serving to offer ample cushioning for electronic products and fragile goods, with low-static properties, an interconnecting form and a lightweight design providing the same protective quality and speed of use as conventional packing chips.
For high volume applications that require flexibility, the PAPERplus® Classic paper dispenses tough yet flexible protective paper that's tear-resistant and entirely adaptable to your product storage requirements. The system uses two ply paper and an innovative pad design to offer ample protection from abrasions, knocks and impacts.
Capable of producing up to 3.7 metres of paper cushioning per second, the PAPERplus® Shooter quickly and efficiently dispenses multi-layer padding from single ply kraft sheets, offering maximum performance at the touch of a button. Available in both free-standing and tabletop configurations.
Innovative e-commerce packaging
Retailers seeking to meet the growing demand for e-commerce shopping can drastically reduce their void fill and cushioning costs by introducing innovations in carton design into their order fulfilment systems.
Variflex Suspension Swing securely suspends your goods between to two highly cushioning layers, providing product stability, reduced pack weights and streamlining packing, perfectly suiting delicate goods and eliminating the need for bubble wrap.
Loaded with design innovations such as a space-saving fold layout and a protrusive outer shell, Boxwrap™ maximises pack efficiency without compromising on ease of use or product protection.
Boxwrap™ features multiple height creases for maximum packing flexibility, so your parcel can hold more in just a single package, making it the ideal choice for quick packing in e-commerce operations.
Efficient, eco-friendly stretch film
Constructed from 55 layers of polymer film, Sigmawrap™ harnesses cutting-edge extrusion technology to offer maximum performance with less material, cutting use levels by up to 50%.
Sigmawrap™ is built from 30% recycled material, helping to reduce your carbon footprint and avoid the UK's plastic tax, all without compromising on load stability and wrapping reliability.


Vortex-Eco™ combines all the usability benefits of high-performance stretch film with the sustainability of the greenest products available today. The film's material composition (51% plant-based resin, 30% recycled polymer content and 19% virgin polymer), carbon neutral production methods offer an uncompromised, reliable level of performance for hand wrapping applications.
End-of-line packing automation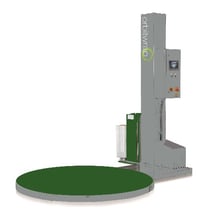 Manual pallet wrapping can be both costly and labour-intensive, often requiring warehouse operatives to apply many more film sheets to palletised goods than is otherwise necessary to ensure adequate load safety and stability.
Semi-automatic wrapping machines offer a high-performance solution, maximising efficiency by reducing fulfilment times and enabling consistency and reproducibility in your film use, allowing you to better budget and pre-empt your packaging spend.
By reducing the need for manual wrapping processes, operatives also lessen the risk of fatigue and injury and ensure more stable pallet loads, since automatic wrapping machines allow for a more consistently wrapped surround of stretch film. This serves to decrease repeat wrapping, cutting down your plastic use and saving on film expenses.
Looking to integrate high-performance pallet wrapping into your operation? Find out more about our Orbitwrap™ 2000A and 2000B semi-automatic wrapping machines.
High-performance, machine-free paper tape
Boxbond™ is a machine-free, sustainable paper tape alternative that's a massive 75mm in width and 50% wider than conventional parcel tape. In just one strip, Boxbond™ creates a secure, firm seal for cartons, far outperforming traditional paper tapes and simplifying the waste management, since paper tape doesn't need to be removed from cartons to be recycled.
Contact us now to find out how we can help your business reduce its packaging use and optimise your fulfilment operation with high-performance, sustainable solutions.