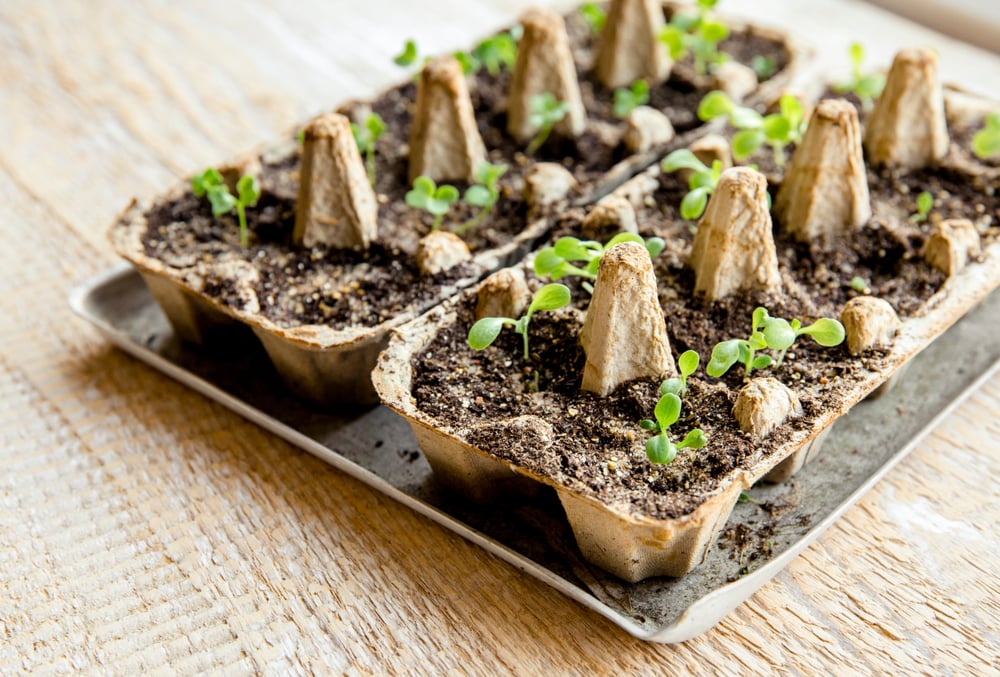 While it's no doubt the case that developments in material technology, increased supply chain transparency and unified efforts in producing less plastic are all pivotal in shaping a greener future, another huge factor to consider is reuse systems and the options available to us to repurpose our packaging.
Simple ways to repurpose your packaging
With the advent of online tutorials, blogs and online influencer initiatives helping to draw attention to the near-infinite array of creative options for packaging reuse, here's a quick rundown of simple ideas to get you started.
1) Get growing
Looking to go green-fingered this spring? Save on needlessly purchasing pots and containers, by reusing existing canisters, jars and cartons as sparkly new homes for seeds and soils. Simply make sure any used food containers are clean before popping new organic material in.
While you're in the mood for all things horticulture, why not try your hand at using cardboard to create compost? Simply tear your cardboard sheets down into small pieces (being sure to remove any plastic tape and staplers) and you're ready to go. Learn more..
2) Send it on
This one may sound obvious, but reusing packaging is a great way of reducing waste to landfill, cutting the burden of recycling and helping to make the most out of the materials you have to hand - as well as saving money.
Provided your container/mailer is free from tears, rips or major structural changes that may damage its contents in transit, covering any existing shipping labels and posting it on for secondary use is a simple, highly effective method of getting the most from your packaging.
3) Any excuse for pasta
Sure, tupperware is handy and often a go-to for gifting homemade dishes to friends and family, but why not try repurposing your food packaging (such as jars for pasta sauces and pickles) to store your latest culinary delights or latest recipe ideas? They often boost the presentability of meals - plus they're great as repurposed candle holders and change storers.
4) A fresh approach to reuse
Aside from being a first-rate option for protecting goods in transit, bubble wrap is an ideal choice for keeping hot goods warm and chilled goods cold. So why not keep your used bubble wrap to hand next time you're planning a large food haul? Simply line your bags or containers with this versatile material to help maintain your food's temperature in transit.
5) Puts those plastic bags to use
As we've outlined, giving your packaging another run at its intended purpose can be a great way of cutting your environmental impact, and that sentiment rings true with plastic bags.
The core role of plastic bags is to facilitate the easier handling and transport of loose goods, so why not put that into action by setting your bags to work as holders as housing for food waste or for recipe cards? They can also prove invaluable in bundling separating travel essentials whilst on holiday.
A note for recyclers
For items you're set on sending away for processing, be sure to clean those pesky spots as much as possible, since excess food waste in recyclable goods often results in containers being deemed contaminated, resulting in their ending up in landfill.
Looking for more options to go plastic-free for good? Check out our sustainable brands and discover how you can effect lasting, impactful change in your business.
To discuss your packaging needs with us, send us a message, or call us on 01543 396700 to speak to a packaging expert today.