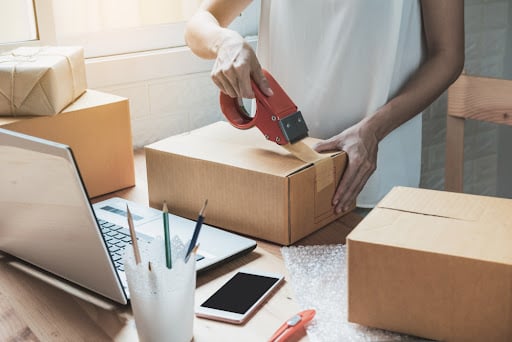 Whether you're a fledgling e-commerce business or an established transport operator, delivering excellent customer service is essential. But in a climate of increasing choice, timely delivery and competitive pricing aren't always enough to win the loyalty of savvy consumers.
The customer now expects their products to arrive in packaging that's both highly protective and as sustainable as possible - usually no matter the dimensions or value of the product. But striking the right balance between efficiency, cost-effectiveness and performance can be tricky.
Fortunately, we're assembled a list of innovative, easy-to-integrate solutions for better e-commerce and transit packing.
Here are the packaging must-haves to ensure increased engagement and customer satisfaction in the long term:
Packaging innovations for e-commerce and transport application
Returnable packaging
No one enjoys waiting patiently for the delivery of an order, only to find it's unsuitable upon arrival. The stress of a tricky returns process often leaves consumers feeling even more unsatisfied and anxious about their refund. But with ultra-fast, returnable packaging, sending back unwanted goods is a quick, simple process.
The Boomerang™ Rapid Return carton's dual peel-and-seal and tear strips mean it can be easily returned, with a crash-lock base and return label marker ensuring the process is both speedy and hassle-free. Similarly our paper mailing bags provide the same quickness and convenience in a lightweight, streamlined profile. This makes sending and receiving books, magazines and clothing a cost-effective, scalable process for any operation. Better still, both solutions are fully recyclable, ensuring easy waste management for consumers and businesses alike.
Mailing bags
When sending lightweight goods, it can be difficult to ensure avoidable weight isn't added to the parcel in the form of packaging materials. That's where puncture-resistant polythene bags offset this issue. They're lightweight and serve as a low-cost, waterproof solution to house clothes and bulky paper items. What's more, they're 100% recyclable and take just seconds to pack products.
When eco-friendly performance and optimum plastic recyclability are required, make the switch to puncture-resistant mailers made from 30% re-granulated material, preserving your sustainability profile and increasing the versatility of your packing operation.
For a padded solution with simple recycling, integrating ultra-protective bubble-lined mailers could be the choice for you. With a higher protection capacity than normal envelopes and a range of sizes available, these ultra-speedy mailers remove the need for additional padding in your pack, allowing you to post a greater number of products with safety and efficiency.
Book wraps
To securely house items requiring slightly more protection without the unwanted size and weight of a carton, book wraps are the ideal choice. Our speedy wraps facilitate quick packing and boast a cleverly designed protrusive outer shell to provide extra protection against knocks and abrasions. This makes these light and tough corrugated covers the ideal choice for postal packaging applications. They're adjustable and remove empty pack space, meaning they can wrap to meet the contours of your products without the need for added materials and tape.
Boxwrap™ wraps are also manufactured from recycled paper and are fully recyclable post-use, conforming to the Royal Mail's small parcel sizing criteria. Like our returnable e-commerce solutions, they come with secure peel-and-seal strips, letting you package your products in super-fast time.
High-performance, fully recyclable liquid containers
Packaging and sending liquid products is inherently tricky. Firstly, it's necessary to house bottled products securely and avoid spills. Then there's the strength and robustness of the pack to consider. For many businesses, this results in the use of large tape volumes and mounds of void-fill, to avoid the knocking and dislodging of tins whilst in transit. But varnishes, paints and oils can now be securely packed with greater speed and protection, using sustainable container holders.
Manufactured from fully recycled materials and designed with full recyclability in mind, PaintGuard™ is a must-have for secure liquid in-transit packaging. These versatile container holders are a secure option for sending tins and tubs of liquid through the post. The eco-friendly pulp fitment fits into specially designed cartons to safely secure multiple sizes of metal tins and plastic tubs, giving functional, affordable transit packaging to a range of liquids – including oils, varnishes and paint.
To ensure even safer, more waste-free packing, PaintGuard™ boxes are complete with tape application guidelines, ensuring packing operatives can work with greater efficiency – with even less material.
PaintGuard™ has been tested to exceed the ISTA (International SafeTransit Association) standard drop test protocol, guaranteeing the product is UK Courier-Approved to have no damages, breakages, spillages or product dents during transit*.
To assure greener packing and storage, PaintGuard™ container holders and cartons are built to integrate with our Boxbond™ Self Adhesive Paper Tape X72 Reinforced tape 72mm x 25m, maximising waste management efficiency and simplicity.
From fully recyclable packaging, to bespoke solutions for FMCG businesses, we can offer the manufacturing, storage and delivery facilities to ensure your packaging needs are met. Email us at sales@allpack.uk.com, send us a message, or phone 01543 396700 today to discover how we can integrate process-efficient solutions into your business.
*Terms and conditions apply. Premium is designed to encase metal tins. Non-Premium is designed to encase metal tins and plastic tubs.