Packaging is a crucial aspect of most industries. While the focus on sustainability and efficiency has increased in recent times, it can be challenging to keep up with the industry standards and product innovations. Understanding key markers and terminologies in the packaging industry can help you make informed decisions for your packaging requirements.
This article will provide an overview of the primary materials, weights, and compositions used in the packaging industry.
Materials
The packaging industry predominantly uses two types of paper for the construction of corrugated boards - Kraft Paper and Test Liner.
Kraft Paper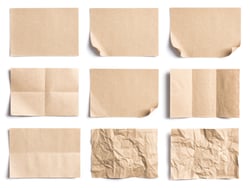 Kraft paper is a high-strength, lightweight material produced from softwood trees. The word "Kraft" is German for strong, which accurately describes the material. The paper pulp and sulfur combine to create a material ideal for packaging.
Test Liner

Test liner is a recycled material consisting of two sheets and produces a double-layered material suitable for the inner lining of cartons. Test liner is a more cost-effective solution than Kraft paper.
Weight
Paper weight is typically measured in grams per square inch, which gives us the GSM value. The standard weights for paper liner include:
115/125 gsm
140/150 gsm
185/200 gsm
250 gsm
300 gsm
Corrugated Sheet Composition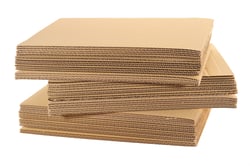 A corrugated board comprises an oscillated paper form sandwiched between two flat sheets to increase material strength and structural integrity. This three-part structure forms the "wall" of the carton, meaning single-wall cartons are built from these three elements only. In the case of double-wall and triple-wall (tri-wall) cartons, the structure is doubled or tripled, respectively, producing a heavier but stronger structure that suits heavy-duty applications. The inner and outer layer materials depend on several factors, including budget and overall use case needs.
Liners
Liners consist of two layers - one basic inner layer for adhesion (for gluing and providing strength), and the other for aesthetics, typically used for printing. There are numerous paper grades, including:
| | |
| --- | --- |
| Name | Material |
| Chip (C) | Waste Material Liners |
| Fully Bleached White (BW) | Fully Bleached Kraft Liner |
| Kraft (K) | Virgin Kraft Paper |
| Mottled Kraft (MK) | Mottled White Kraft |
| Oyster (O) | Mottled Test Liner |
| Semi-Chem (SC) | Part-Chemical Process (Sulfur and Pulp) |
| Test 2 (T2) | Part-Recycled Liner |
| Test 3 (T3) | 100% Recycled Liner |
| Waste-Based (WB) | 100% Recycled Fibres |
A paper liner labeled "125MK" would refer to a Mottled White Kraft sheet with the weight 125 gsm.
Understanding Flutes and Grading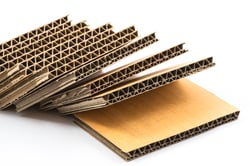 The fluting, which is the oscillated centre layer of the board, can vary in size and shape, depending on the necessary application. The distance between the "waved" sections is the primary indicator of board strength. Different layers are assigned to each flute to differentiate between center layer types. The most common flute weights include:
90 GSM WBF
105 GSM WBF
112 SC and WBF
150 SC and WBF
175 SC and F

The most common cardboard flute weights and their codes are as follows:
E-Flute: approximately 1/16 inch thickness (1.5mm); code is "E"
B-Flute: approximately 1/8 inch thickness (3.2mm); code is "B"
C-Flute: approximately 3/16 inch thickness (4.8mm); code is "C"
BC-Flute: a double-wall flute made up of one B-Flute and one C-Flute; code is "BC"
A-Flute: approximately 1/4 inch thickness (6.4mm); code is "A"
Given the information above, shorthands can now be applied to describe various cardboard types. For example, the shorthand 'B-Flute' is used to describe a specific kind of corrugated board with a 3mm flute, while the description 'EB' refers to a type that features a combination of E and B flutes.
Corrugated board and carton manufacturing is a complex process that involves numerous materials, weights, and grades. As a buyer, it's important to understand these terms to make informed decisions when it comes to your packaging requirements.
By familiarizing yourself with the industry standards and terms, you can make more informed decisions about your packaging needs. Whether it's the materials, weight, or grade, each element plays a critical role in the end product. So, take the time to learn the nuances of corrugated board and carton manufacturing – it's well worth it in the long run.
At Allpack, we take great pride in being experts in providing sustainable and innovative packaging solutions. We have extensive knowledge of different cardboard board grades and types of fluting, allowing us to tailor our packaging solutions to the specific needs of our clients. Our commitment to the environment and delivering high-quality, cost-effective packaging solutions makes us the go-to choice for businesses looking to optimise their packaging processes and reduce their environmental footprint.
If you're interested in learning more about our bespoke solutions and consultations in packing process efficiency, we encourage you to reach out to us today. We are available by phone at 01543 396700, by email at sales@allpack.uk.com, or you can visit our website at www.allpack.uk.com to learn more about our sustainability-driven services and products.