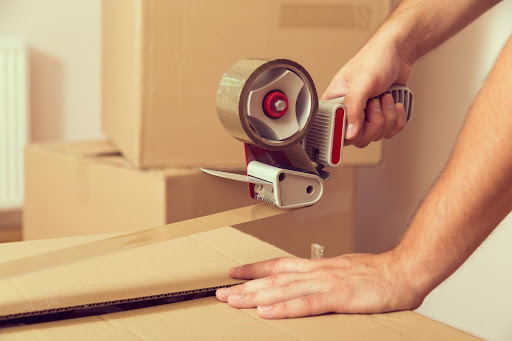 When it comes to packaging, selecting the right type of tape is crucial to ensure the safe and secure transport of your products and maintain the sustainability profile of your business. Paper tape and polypropylene tape are the most common types of tape used in packaging, but there are numerous other options that provide optimal performance for various applications. In this post, we will explore the different types of packing tape available and their adhesive properties, strengths, and applications.

The essential tape options

Paper Tape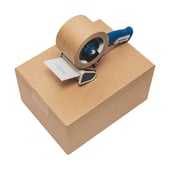 Paper tape, also known as Kraft tape, is a paper-based option that's biodegradable and environmentally friendly. It can be easily torn by hand and is commonly used for sealing cartons, boxes, and packages. The tape can remain adhered to boxes after use, making waste management processes far simpler, helping to reduce reliance on virgin plastic, such as those used in conventional packing tape.

With eco innovations like Boxbond™, dispensing is even more sustainable, since just a single strip is required to seal a carton - and a lightweight, easy-to-use dispenser removes the need for electronic machines. Better still, the tape's self-adhesive properties let you firmly and securely seal packs without the use of water.

Polypropylene Tape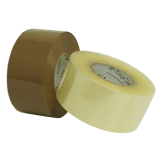 Often used in industrial settings that require heavy-duty packaging, polypropylene tape is made from synthetic material, often making it sturdier and more durable than paper tape. The use of plastic also means it's resistant to tearing, moisture, and abrasion, making it suitable for use in harsh environments. Polypropylene tape is also available in a range of thicknesses and has a synthetic adhesive that is intended to stick to various surfaces, including plastic, metal, and cardboard.

PVC Tape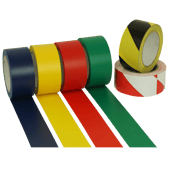 Made of polyvinyl chloride, PCV tape is known for its high durability and strength, making it ideal for heavy-duty applications. It is also resistant to moisture and chemicals, making it perfect for use in challenging environments and industrial spaces. For this reason, PVC tape is often available in various colours and styles, increasing safety and helping to segment and separate materials and work areas.

Crossweave Tape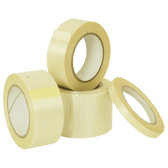 Designed to resist tearing and punctures, Solvex™ is a crossweave tape that provides outstanding strength and durability, making it ideal for securing heavy or bulky items. Crossweave tape is also available in various widths and strengths, enabling you to select the appropriate tape for your specific requirements. This produces the perfect option for securely bundling goods and reinforcing boxes without excess material.

Masking Tape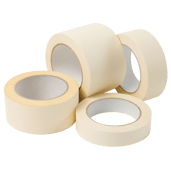 Masking tape is made of thin, crepe paper coated with a low-tack adhesive. It is designed to be easily removable without damaging the surface it was applied to, making it ideal for protecting surfaces during painting or other similar applications.
For maximum versatility, our Maxtape™ masking tape is available in general purpose and high-bake grades for high-temperature use. The tape's smooth unwinding enables easy control during application and makes hand-tearing quick, simple and clean. This high-quality sealing choice sticks to a variety of surfaces, including paper, fibreboard, glass, rubber, plastic and metal, providing value and consistent performance across numerous applications.

Duct Tape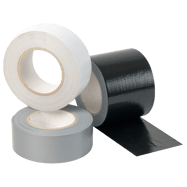 Recognised for its strength and durability, Duct tape is a popular choice for a wide range of applications, including packaging, construction, and automotive repair. The tape has a layer of cloth and film laminated together to give it strength and robustness. Its material is then coated with a generous layer of adhesive, for maximising tack and assured consistency and performance, with added resistance to abrasions.

Allpack's Vulcan™ cloth tape is moisture-resistant but easy to tear by hand, prolonging the tape's bond in moist and humid environments, with a high-tack adhesive that sticks well to a range of surfaces.

Paper vs plastic: analysing the core tape options

Adhesive Properties of Paper Tape and Polypropylene Tape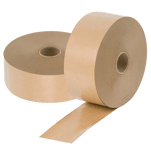 .



One of the key differences between paper tape and polypropylene tape is their adhesive properties. Paper tape utilises a natural rubber adhesive, which is suitable for sealing lightweight packages. However, this type of adhesive may not be suitable for use in humid or wet environments. But polypropylene tape makes use of a synthetic adhesive that is intended to adhere to a variety of surfaces, including plastic, metal, and cardboard. This adhesive is also resistant to changes in temperature and humidity, making it ideal for use in a wide range of environments.

Despite the added strength of polypropylene tape, the self-adhesive properties of paper options like Boxbond™ make application quick and easy - while its wide provide ample cover to seal sizeable and weighty packs.

Need the performance of plastic with less of the environmental impact? PETra™ tapes are made from at least 85% recycled content (recycled PET plastic), with a high-tack performance and 20% less plastic than conventional polyester options.

Strength of Paper Tape and Polypropylene Tape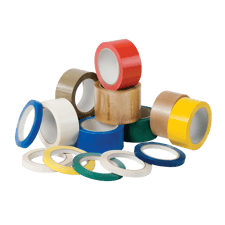 Strength is another important factor to consider when selecting between paper tape and polypropylene tape. Although paper tape may be strong enough for many packaging applications, it may not be suitable for heavier or bulk-friendly options, while polypropylene tape is a good choice for heavy-duty applications. PVC tape and filament tape are also ideal for heavy-duty applications, while masking tape and duct tape are better suited for specific use cases.

When choosing between paper tape and polypropylene tape, it is important to consider the adhesive properties, strength, and appearance of each type. Polypropylene tape may be a better option for those who need extra strength and durability, while paper tape may be preferable for those who value an eco-friendly option that is easy to tear by hand. Nevertheless, the environmental impacts of plastic use - in combination with the potential costs - have caused businesses to rethink their packing process and look for greener ways to operate and more sustainable solutions moving forward.

We work closely with our clients to understand their unique needs and challenges and offer customised solutions to help them achieve their sustainability goals. Contact us today by sending a message, or email us at sales@allpack.uk.com to learn more about how we can help you improve your packaging sustainability and reduce your environmental impact.