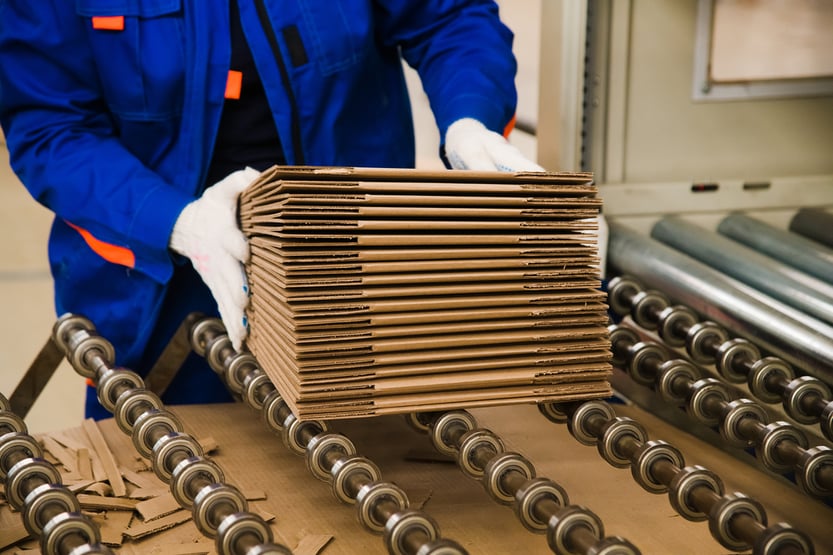 In a landscape of ever-growing choice, it can be difficult to remain in-the-know when it comes to industry standards and product innovations. The same is true for packaging. With an increased focus on sustainability and efficiency, new solutions are brought to market practically daily. Thankfully though, there are a few consistent industry terms and standards to help you to better understand your purchases and inform your packaging requirements in the long term. Here's a brief rundown of those key markers to point you in the right direction.
Materials
Broadly speaking, there are two primary paper types used in the construction of corrugated boards – the basis for carton manufacturing.
Originating from the German word for 'strong', Kraft paper is produced from softwood trees, in a process that combines the tree pulp and sulfur to create a lightweight, high-strength material that's ideal for packaging.
Test liner, on the other hand, is a recycled material created by combining two sheets, producing a double layer that's ideally suited to the inner lining of cartons. Typically, test liner is a more cost-effective solution than Kraft paper.
Weight
To measure a paper's weight, we simply record the grams per square inch of the chosen material. giving us the GSM value. Standard weights for paper liner are:
115/125 gsm
140/150 gsm
185/200 gsm
250 gsm
300 gsm
Titling - an example: a paper liner with the label '125K' would refer to a Kraft sheet with the weight 125 gsm.
Corrugated Sheet Composition
The basic design of a corrugated board involves gluing an oscillated paper form between two flat sheets, to increase material strength and structural integrity, allowing a rigid carton to be formed.
We consider the three-part structure as the basis of the 'wall' of the carton, meaning single-wall cartons are built from these three elements only. In the case of double-wall and triple-wall (tri-wall) cartons, the structure is doubled or tripled, respectively, producing a heavier but far stronger structure, suiting heavy-duty applications.
As outlined, the inner and outer layers' material will depend on several factors, including budget and overall use case requirements.
Liners are essentially made up of two layers: one basic inner layer for adhesion (for gluing and providing strength), and the other (the cover layer) for aesthetics, typically used for printing.
There are numerous paper grades, as outlined below:
| | |
| --- | --- |
| Name | Material |
| Chip (C) | Waste Material Liners |
| Fully Bleached White (BW) | Fully Bleached Kraft Liner |
| Kraft (K) | Virgin Kraft Paper |
| Mottled Kraft (MK) | Mottled White Kraft |
| Oyster (O) | Mottled Test Liner |
| Semi-Chem (SC) | Part-Chemical Process (Sulfur and Pulp) |
| Test 2 (T2) | Part-Recycled Liner |
| Test 3 (T3) | 100% Recycled Liner |
| Waste-Based (WB) | 100% Recycled Fibres |
Understanding Flutes and Grading
The oscillated centre layer of our board (the fluting) can vary greatly in size and shape depending on the necessary application, with the distance between 'waved' sections being the primary indicator of board strength. To differentiate between centre layer types, different layers are assigned to each flute
The most common flute weights are as follows:
90 GSM WBF
105 GSM WBF
112 SC and WBF
150 SC and WBF
175 SC and F
Flute Types
| | |
| --- | --- |
| Name | Length |
| A Flute | 5mm |
| B Flute | 3mm |
| C Flute | 4mm |
| E Flute | 1.5mm |
| F Flute | 2mm |
| BC Flute | Combination: B + C flutes |
| EB Flute | Combination: E + B flutes |
In almost all cases, the flute is made from waste or recycled materials.
Given the information above, shorthands can now be used to indicate different board compositions. For example, a board with a 200 gsm Kraft outer, a 200 gsm test liner inner, and a B flute can be written as follows: 200K/B/200T.
FEFCO Codes
FEFCO is the European Federation of Corrugated Board Manufacturers, a non-profit organisation that represents the corrugated cardboard industry in both the UK and Europe. Their naming system was created to sort and simplify cartons by style, as opposed to fine-grained sorting based on largely customisable dimensions.
The primary format of the FEFCO system is a four-digit numbering: two digits that represent a style category, and two digits that represent a unique style within the category.
As an example, an 0203 carton is an 03-style box from the 02 (slotted-type) box category.
FEFO Categories
| | |
| --- | --- |
| Number and Style | Description |
| 1: Commercial rolls and sheets | Ideal for protecting delicate goods in transit |
| 2: Slotted-type cartons | Typically one piece of card - often flat-packed and buildable with the taping/folding or top and bottom flaps |
| 3: Telescope-type boxes | Multiple corrugated card pieces - with either a top or bottom that 'telescopes' over the accompanying section |
| 4: Folder-type boxes and trays | Typically a single corrugated sheet with a hinged bottom, producing the walls and top cover - often with locking tabs, handles or label panels |
| 5: Slide-type boxes | Several liners and sleeves faced in opposite directions - includes outer sleeves for other boxes |
| 6: Rigid-type boxes | Comprised of two end pieces and a central core - requires stitching of each piece to be functional |
| 7: Ready-glued cases | One piece of corrugated cardboard - shipped flat-packed; quick and simple to assemble |
| 9: Interior fitments | Singular items for use with other carton styles, often with the purpose of dividing box elements - includes liners, pads and dividers |
Find a comprehensive rundown of categories and styles on the FEFCO website.
Design Your Own Carton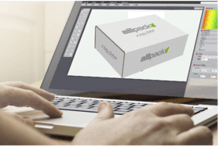 Now you're equipped with the fundamentals, you're ready to design your own carton!
Use our custom box configurator to specify the FEFCO style, dimensions, outer sheet and flute of your carton - as well the artwork. Once you're happy with your design, simply hit 'submit', and a packaging expert will be in touch shortly after with a quote and further information.
Alternatively, call us on 01543 396 777 or message us today to discuss your packaging needs and the range of bespoke solutions available.