More and more, we're finding automation in daily life. From automotive advancements to household tools like smart meters, the so-called 'internet of things' is increasing connectivity, and automated systems are driving efficiency everywhere we look.
It's unsurprising, then, that businesses are turning to automation at an ever-increasing rate, to improve effectiveness and cost-savings in the long-term. But automation need not mean creating wholesale changes to your fulfilment operation; there's a host of easy-to-integrate solutions that help to cut material costs and reduce pack times for businesses.
To make the search for automated packing solutions simpler, here are some essential options:
Tray erectors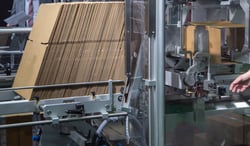 Tray erectors are the first stage in an automated packing line, processing sheets from a filling unit and constructing ready-to-fill cartons from corrugated blanks, ready for picking.
For high-volume applications, automated systems that use a single, continuous corrugated sheet eliminate the need to replenish feeding trays more regularly and prevent the manual transfer of blanks from pallets to the machine.
Packing and sealing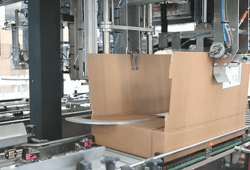 To ensure speed and security for your products, automatic packing machines can measure item height to automatically fold and glue carton walls for perfectly packed goods, increasing box strength for added product protection. A lidding unit completes the packing process by swiftly topping and sealing the filled carton.
For increased efficiency from each carton, there's a range of options for reducing volumes and ensuring a secure package. Many systems can accurately measure box contents and tear cartons' corners to fold each side and produce a single, sealed outer for the packed goods. Better still, these versatile units often allow for multiple height outputs across one or two box footprints.
Reducing waste in packing
Serving to maximally secure packed goods and firmly enclose irregularly shaped products, automated packing machines can also fold a single corrugated sheet to meet the contours of your products, wedging securely against the goods to increase item stability and improve pack neatness and presentability.
Inline labelling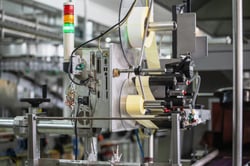 Inline labellers provide reliable, flexible label application to a sealed carton, often with a modular construction to allow for repositioning across a packing line, letting you incorporate multiple levels of automation into your system and allowing for uniformity in order processing. Labelling machines are suited to multiple label types and formats.
Pallet wrapping machines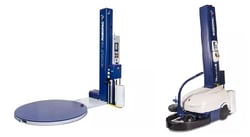 Pallet wrapping machines offer a host of benefits and serve to expedite the loading of palletised goods quickly and efficiently, with preset wrap speeds and programmable cycles for tailored wrapping, ensuring a safely wrapped load that's quick, convenient and simple to complete. And adjustable turntable and carriage speeds mean throughput can be increased with consistency over time.
Equipped with a range of technical and performance innovations such as a start-cycle siren, product wrapping blinker, immediate stop button and emergency bumpers, pallet-wrapping robots like the Robot Master are an easy-to-integrate solution for any operation, reducing downtimes and increasing workflow efficiency for staff.
Tape dispensing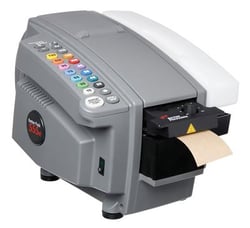 Semi-automatic tape dispensers allow for quick, on-demand dispensing of both variable and preset tape lengths, with quick-use functions like colour-coded sections for common lengths and complete carton seal applications.
Void fill dispensing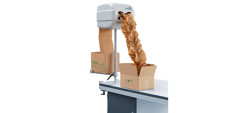 From air pillow machines to uniquely designed paper cushioning dispensing, there are a host of options for ultra-fast, on-demand void fill production, allowing you to more consistently fill packages and accurately and predict volumes for busier periods.
The examples outlined above represent just a small portion of the range of available options for businesses wishing to incorporate automation into their operations, with solutions that cover pack inspection, carton filling, sealing wrapping and labelling all offering viable means to save on costs and futureproof growing businesses.
For more information on how we can apply process-intelligent solutions to your automation plans and ensure increased efficiency moving forward, send us a message, email us, or contact us on 01543 396700.