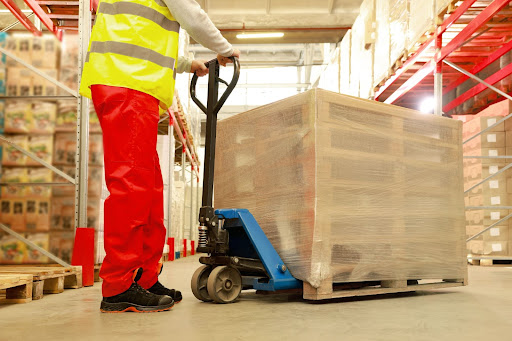 Stretch film is a vital packaging component that's essential in ensuring the safety and protection of products during transportation and storage. There are two primary types of stretch film: cast and blown. They both have distinct properties that make them ideal for different use cases and packaging needs.
In this blog post we'll outline the key differences between blown and cast film, to help you pick the right solution to get the most from your packing.
Cast Stretch Film
Cast stretch film is produced by extruding a molten resin through a flat die, which is then passed through multiple rollers. The rollers stretch the film in both directions, which produces a high-cling film that's both transparent and thin. Due to its high clarity, quiet unwind, and consistency of application, cast stretch film is the most common type of stretch film on the market.
Ideal for wrapping uniform loads or flat surfaces such as pallets, boxes, and furniture, cast film has a high elongation capacity and good tear resistance, for increased wrapping tightness and safety. Better still, its high-clarity finish ensures the quick, easy identification of wrapped goods.
A high-performance film solution, Vortex™ Cast Films are manufactured with 30% recycled material content, making them Plastic Packaging Tax-compliant and suitable for kerbside recycling systems.
Specially designed and formulated for heightened cling and pallet grab, Vortex™ pallet wrap is ultra-easy for warehouse operatives to apply, saving them time and effort.
Blown Stretch Film
Blown stretch film is made by melting resin beads, which are then blown through a circular die. Afterwards, the film is stretched in both directions as it's cooled, producing a thicker, stronger solution than cast stretch film. Manufactured for added toughness and puncture resistance, blown stretch film is ideal for wrapping products that are irregular in shape.
Blown stretch film's higher load retention capacity makes it the perfect choice for wrapping heavy loads - while a higher puncture resistance protects the products from damage caused by sharp edges or corners. But increased puncture resistance and heightened strength results in a cloudier appearance and a more noisy unwind than cast film.
Vortex™ Blown Film is stretched at the point of manufacture and rolled onto the core in its stretched state. Once applied, the film contracts back to its original state, compressing against the load and offering improved load stability, with a residual stretch of 40%. This innovative stretch film solution can reduce material waste by over 50%.
Like its cast film counterpart, Vortex™ Blown Film has been manufactured using 30% recycled content, making it the ideal choice for reducing plastic in your packaging and improving your green credentials.
Selecting the right stretch film for you
The scope of your operation and the range of products you pack will dictate which stretch film is better suited to your needs. If you're regularly wrapping uniform loads or items with flat surfaces, cast film will be your best choice. But if you're wrapping heavy and irregular loads, blown film will be the ideal solution.
The Plastic Packaging Tax
The UK's Plastic Packaging Tax is a levy that was introduced last year and created as a means to encourage businesses to reduce their use of plastic packaging and increase the adoption of recycled materials.
Brought into effect in April 2022, the tax charges businesses at a rate of £200 for each tonne of plastic packaging used that does not meet the minimum recycled content threshold.
The Plastic Packaging Tax was created to generate revenues that fund recycling and waste management initiatives. It was also devised to incentivise businesses to use more sustainable packaging options, such as packaging made from biodegradable materials or packaging that can be easily recycled.
In addition to the financial cost of the tax, businesses may also face reputational damage if they are seen as contributing to plastic waste and not taking steps to address the issue.
From 1st April 2023, the Plastic Packaging is set to increase from £200.00 per tonne to £210.82 per tonne, further incentivising businesses to make the switch to greener options and operate more sustainably in the long term.
For a comprehensive review of your packaging systems and information on reducing your use of virgin plastic, or to learn more about our high-performance, sustainable options for greener packing, email us as sales@allpack.uk.com, send us a message, or phone 01543 396700 today.