Recent news of reduced lockdown restrictions across the UK has been met with almost universal optimism and renewed confidence in the retail sector's bounce back, as businesses prepare for a return to in-store shopping and face-to-face commerce. But with over 50% of polled consumers signalling their preference for buying online over visiting their local bricks and mortar store, nailing the order fulfilment process to satisfy the growing demand for web shopping has never been so crucial.
So, to help you keep up with increased online sales and ensure you're set up for continued growth in the e-commerce space, here are five ultra-quick and easy-to-use packaging solutions.
Boomerang™ Carton
The pains of receiving a long-awaited web purchase only to find an ill-suited or entirely incorrect product hit your doorstep is an all-too-familiar experience for many of us. Fortunately, though, we're offsetting the operational pains of web-based order processing and simplifying the returns process with a nifty, tape-free solution, the Boomerang™ Rapid Return carton.
The box's lightweight dual peel and seal and tear strips mean it can be easily returned, with a crash-lock base and return label marker ensuring the process is both quick and headache-free.
Boxfill™
Boxfill™ is an eco-friendly, scalable and speedy void fill system, requiring no investment in expensive machinery and no refilling or reloading, optimising efficiency in your workflow and reducing costs considerably.

Cutting layers of fill to pack out the carton can often be time-consuming and labour-intensive, causing bottlenecks in order processing. But this lightweight, plastic-free solution quickly dispenses recycled paper without pre-cut lengths, reducing both fill costs and waste considerably.

No manual scrunching is required; just remove the perorated panel, grab the pre-crumpled paper and pull to bring innovation into your business. Simple.
Airwave
An eco-friendly alternative to plastic air pillows, AirWave™ can be run on demand or within integrated hopper systems, offering huge space-saving potential and a clean, sustainable packaging option, ideal for lightweight goods, using air to securely pack your products.
With a biodegradable lining and recycled paper shell, AirWave™ provides all the protective quality of regular plastic void fill options without any of the environmental cost.
Boxwrap
Sustainably sourced and fully recyclable, Boxwrap™ is an environmentally friendly packaging solution packed with design innovations, such as a space-saving fold design and a protrusive outer shell, crafted to protect your goods in transit.
Both fast and simple to use, Boxwrap™ features an ultra-strong tamper-evident seal, removing the need for tape and providing added security.
Boxwrap™ features multiple height creases for maximum packing flexibility, so your parcel can hold more in just a single package, making it the ideal choice for e-commerce operations.
Water-activated tape and dispensers
Water-activated tape is 100% recyclable and doesn't need to be removed from cartons, speeding up waste management processes and improving your operation's green credentials.
For improved efficiency, WAT dispensers offer quick, convenient paper tape dispensing, allowing users to set the required strip length for an efficient carton-sealing process, providing the ideal tape solution for postal rooms and pack stations.
Automatic tape dispenser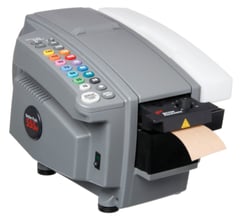 With colour-coded keys allowing the user to dispense commonly used tape lengths, this electronic tape dispensing unit optimises efficiency and reduces waste, with a dispensing range of 145mm - 3050mm in 12.7mm increments and a width range of 25 - 76mm. Better still, the system features a repeat function, dispensing the most recently used tape length, for heightened ease of use and speed.

The machine can house a maximum roll length of 303 m (with a maximum outer roll diameter of 254mm) at a dispensing speed of 1.14 metres per second, packing in an impressive 1.89 litre reservoir for even tape application. Speak to one of our experts for more information.
Looking to upgrade your e-commerce packaging? Contact us