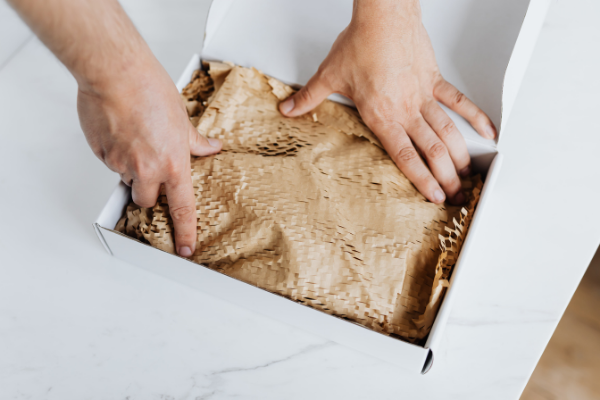 Packing beauty products, electronics and glassware can be a tricky business. Often, ensuring the wide variety of object shapes found in any one of those product types is accounted for results in overspends on adequately protective solutions and leads to workflow inefficiencies. But with a range of versatile, simple-to-use solutions on the market, your goods can now be safely housed whilst on the go.
Mesh sleeves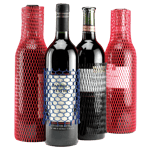 In the case of bottles and glassware, simply throwing more void fill into a carton won't do. The weight concentration of the bottles in combination with the relative fragility of glass means some more form-fitting is necessary.
That's where mesh sleeves come in. Lightweight, grease-resistant and ideal for adding grip, mesh sleeves are the perfect choice for oblong objects such as bottles and tubular food tins, creating a stabilising but non-damaging friction for the goods in multi-item packs, helping to reduce movement, which leads to easier packing overall.
Interlocking paper wrap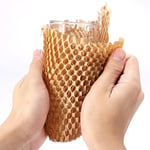 An ideal plastic-free void fill and surrounding layer for delicate goods, Hexcel wrap is a recyclable, biodegradable and compostable packaging solution, offering high-performance packing and a host of design benefits.
The wrap's unique interlocking pattern opens up from a neatly packed flat storage state, gripping tightly to your products and adhering to itself with ample cushioning, removing the need to use wrap, fill and tape in combination. What's more, Hexcel wrap can be torn to the required amount in seconds, reducing your packing time by up to 50%
Coloured roll/tissue paper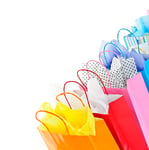 Everyone loves a splash of colour, so why not spruce your product wrapping or void fill with distinctive coloured tissue paper and set the seasonal tone with your customers? By adding either your brand's colours or a variety of tones to your packaging, you're sure to create a memorable unboxing experience for your customers.
Coloured paper is often a go-to for filling out presentation boxes for beauty products and jewellery, serving to provide a premium feel and look without adding to pack weights or increasing packing costs.
Air-filled packing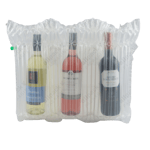 Making use of an innovative air pocket design, Inflatech™ is perfect for glassware, electronics and food products. The system's unique ridging and seal system surrounds your product, suspending the item within its air pouches, reducing the risk of damage from abrasions, impacts and water damage, eliminating the need for additional void fill or item wrapping.
Biodegradable Loose Fill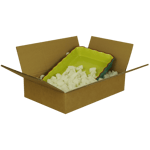 biofil™ is a 100% natural loose that's both biodegradable and low-static, making it perfect for protecting sensitive electronic goods and packing in high volumes, allowing for a seamless transition to greener packing without changing workflows or adjusting transit packaging to better facilitate a new protective layer inside the pack.
Looking for more options to go plastic-free for good? Check out our sustainable brands and discover how you can effect lasting, impactful change in your business.
To discuss your packaging needs with us, send us a message, or call us on 01543 396700 to speak to a packaging expert today.