As companies continue to redirect their operational focus to an e-commerce-centric model and attempt to optimise their fulfilment processes to handle the lockdown-induced increase in demand, many are seeking to cut waste and restructure their packing systems to better handle increased throughput—both in terms of packing speeds and waste creation.
So, to aid in optimising the order fulfilment process, we've identified some key packing automation solutions to reduce human error, minimise packaging use and ensure high-quality, repeatable packing results.
Strapping machines
Semi-automatic strapping machines offer a range of benefits for pick and pack operations, allowing users to dispense the appropriate length of strapping for their package quickly and efficiently. They also serve to extend the packing area, integrating well into bench systems and facilitating the storage of ancillary products like packing tape labels and mailing bags.
The casepak™ polypropylene strapping machine is a highly popular pack station solution, boasting a compact design and a secure frame enclosure, for added safety and security. This reliable, low maintenance machine is easy to use and suitable for straps from 6 - 16mm. Find out more
For high volume operations, automatic strapping machines can serve as the optimal solution, with an easy-to-load auto-strap for speedy, efficient strapping replacement and use. See our automatic strapping machine.
Airpillow systems
Using air to securely position and protect packed goods, Airpillow void fill systems dispense even, highly cushioning pillows to pack out cartons and crates. Plus, the bubble film is both easily recyclable and made from at least 50% recycled material, boosting your operation's green credentials.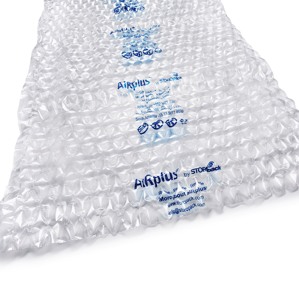 AIRplus® void fill offers unique diamond shaping allows air pockets to neatly tesselate against each other, meaning your goods can be packed more tightly than with conventional void fill, ensuring an highly protected product, reducing both shipping and material costs.
AIRplus® is designed to integrate into existing operations for on-demand sheet production and use, making it the ideal addition to both manual and automated packing lines.
Paper void fill
Our fast paper void fill system produces a lightweight yet highly protective multi-layer packing material, providing a greater yield from your one-ply Kraft packing supplies than crumpled paper systems.
This well constructed, high-tech machine offers a range of flexible features for working comfort and improved productivity, reducing user fatigue and optimising your workflow.
Airwave™
A plastic-free alternative to conventional air fill systems, AirWave™ offers huge space-saving potential and a clean, sustainable packaging option, ideal for lightweight goods, using air to securely pack your products.

With a biodegradable lining and recycled paper shell, AirWave™ provides all the protective quality of conventional, plastic-based void fill with none of the environmental cost—while its dispensing unit produces the creates the pocket speedily on an on-demand basis.
Pallet wrapping machines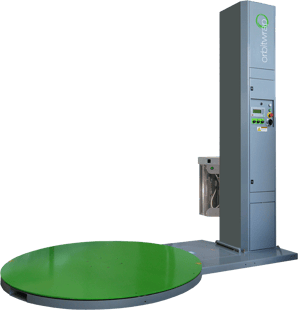 With options for preset wrapping speeds, automatic load height sensors and easy-to-use control panels, semi-automatic wrapping machines offer a quick and simple pallet securing option for any operation, maximising efficiency by reducing fulfilment times and facilitating concurrent order processing.
By reducing the need for manual wrapping processes, operatives lessen the risk of fatigue and injury and ensure more stable pallet loads, since automatic wrapping machines allow for a more consistently wrapped surround of stretch film. This serves to decrease repeat wrapping and saves on film costs.
Find out more about our Orbitwrap™ 2000A and 2000B semi-automatic wrapping machines.
For more information on our packing automation systems, contact us.