When packing delicate and lightweight goods, it can be tempting to assume that packing more material into the carton is the optimal strategy to ensure adequate product protection. But filling the void with undue fill can be both time and labour-intensive and costly in the long-term.

A solution to ensuring packed goods are secure for delivery can be found in the form of air-filled cushioning, using only the requisite mass of material that's necessary to fill the space.
To be best exemplify this, AIRplus® air pillows are the ideal choice for packing fragile goods quickly and safely.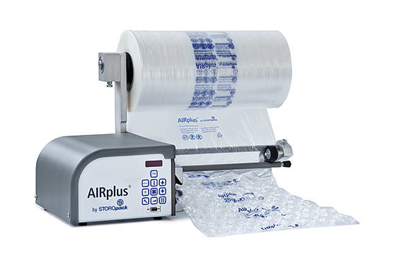 A number of pillow shapes can be created using the AIRplus® machine, and the padding can be produced directly at the bench, facilitating a modular approach to packing, irrespective of the station layout.
Better still, the unit's small foot print is the ideal solution for saving space and increasing fulfilment efficiency in both automated setups and above containing units, and the bubble film is both easily recyclable and made from 100% recycled material, occupying less volume per square meter of void fill per pallet space than paper, boosting your operation's green credentials.
AIRplus® Void's large air pillows keep prepacked products safe and secure with high-performance blocking and bracing, while AIRplus® Cushion and AIRplus® Bubble air pillows offer maximal flexibility, serving as the ideal choice for cushioning, blocking, bracing and item wrapping.
The first 100% recycled air pillow of its kind, AIRplus® cushions are comprised of 99% air and 1% film--built from post-industry and post-consumer-waste--reducing operating and material costs and saving 30% of greenhouse gases and conserving fossil resources.
A plastic-free alternative to conventional air fill systems, AirWave™ offers huge space-saving potential and a clean, sustainable packaging option, ideal for lightweight goods, using air to securely pack your products.

With a biodegradable lining and recycled paper shell, AirWave™ provides all the protective quality of conventional, plastic-based void fill with none of the environmental cost—while its dispensing unit produces the creates the pocket speedily on an on-demand basis.
If you're looking to integrate air pillow systems into your fulfilment operation, or for more information on our bespoke void fill systems, contact us.